Categories
Sun Dragon
NASA says that the sun erupted a plasma emission for several hours that looked like a dragon's tail, before it fell back into the sun. It does not look like that to me, but I guess they are attempting to imprint and trigger something. 
See for yourselves: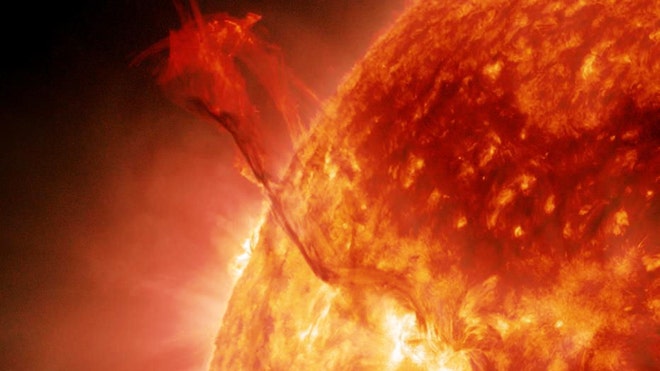 They stated: "
A NASA spacecraft studying the sun has recorded amazing video of a giant plume of super-hot plasma erupting from the star's surface, only to crash back down hours later.
The solar plasma eruption, which NASA scientists nicknamed a "Dragon Tail," rose up from the sun's surface Thursday and was spotted by the agency's Solar Dynamics Observatory, a powerful spacecraft that constantly records the sun's weather in different wavelengths of light."
So what do you all think of that! Even our Sun is going reptile on us!
Speaking of the Sun, today is Groundhog Day in the US. He did not see his shadow because it was cloudy, indicating–according to lore–that it will be an early Spring. However, Groundhog Phil should have been in Michigan today where we have heavy snow and white out conditions and temps at -12C.  No early Spring here, my little rodent friend.
So, if any of you readers are in a sunny location, watch out for that dragon tail whipping down to get you!