Description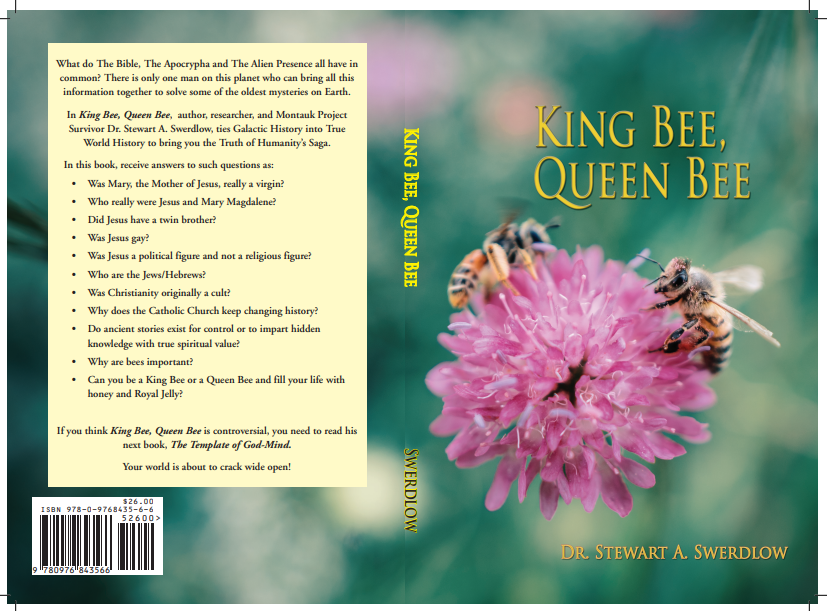 What do The Bible. The Apocrypha and The Alien Presence all have in common? There is only one man on this planet who can bring all this information together to solve some of the oldest mysteries on Earth.
In King Bee, Queen Bee, author, researcher, and Montauk Project Survivor Dr. Stewart A. Swerdlow, ties Galactic History into True World History to bring you the Truth of Humanity's Saga.
In this book, receive answers to such questions as:
Was Mary, the Mother of Jesus, really a virgin?
Who really were Jesus and Mary Magdalene?
Did Jesus have twin brother?
Was Jesus Gay?
Was Jesus a political figure and not a religious figure?
Who are the Jews/Hebrews?
Was Christianity originally cult?
Why does the Catholic Church keep changing history?
Do ancient stories exist for control or to impact hidden knowledge with true spiritual value?
Why are bees important?
Can you a King Bee or a Queen Bee and fill your life with honey and Royal Jelly?
Your world is about to crack wide open!
Only $26 
If you are not yet a member sign up

HERE

to receive your

17% discount !!!
If you think King Bee, Queen bee is controversial,you need to read this next book, 
The Template of God-Mind.